Protect yourself and others, build confidence, boost morale, improve team building & wellbeing
The importance and growing popularity of personal safety and self-defence programmes in today's society
Are you a business who's staff deal with difficult clients as part of the nature of your business? Are they on the road travelling to and from meetings? Do they walk or travel on public transport between home and work? Or maybe they work late at night?
Did you know 24% of people say they would leave a role due to personal safety concerns, so let's protect and support your business's most valuable asset – your staff!
We've helped over 1,000 people to feel safer and empowered
Empower your staff, rather than disempowering them with 'don't go walk along in the dark' messaging
While employees are around colleagues and people they are comfortable within the workplace, what happens when they leave the premises to go for lunch, take a break, attend an external meeting or go home after working late?
Are you aware of your employees' current concerns or previous incidents that could be affecting them in their role? If you aren't aware this doesn't mean they don't exist. Unfortunately, only a small number of people feel confident enough to speak out. 
No matter your age, gender, size, height or strength, everyone at some point in life has experienced a situation that made them feel uncomfortable and even vulnerable. We can't prevent these situtations from happening but we can equip people to confidently take safe, appropriate actions to protect themselves and those around them.
"A simple note to say this was a fantastic and more than likely the most empowering & lifesaving session I have attended. I will advocate everyone go on this course."
Who are our workshops for?
Business with employees who are office-based and/or work from home
Whilst staff may feel comfortable around colleagues at the office, they may encounter situations where they feel unsafe when they go out for lunch, attend an external meeting or even commute to and from work.
Businesses that operate in a high risk environment
Whether your staff are exposed to precarious or unpredictable situations due to the nature of your business, such as working on the road, during late hours of the night – ranging from security to healthcare. You'll already have policies in place, but do your employees have the practical skills for when they truly need them?
Businesses looking for team building workshops
Not only are these programmes great for team building workshops, but they also educate and empower your staff with critical skills that will have a positive impact on their mental health and wellbeing. These skills could potentilly save their life or of someone around them.
Fitness clubs who not only want to support clients health but also wellbeing
Just because someone is considered fit and healthy, doesn't mean they'd be able to avoid or fend off an attacker. No matter your size or strength, anyone could be a victim. But equipped with the right knowledge and skills they could not only protect themselves but of others around them.
Personal safety & self-defence workshops that empower everyone
Educate, empower, build resilience, improve team building and boost wellbeing
Our workshops help everyone to discover their own inner confidence, equip them with the skills to think critically in stressful situations, and gain a better awareness of their own strengths and how to use those to their advantage.
We have several standard workshops; however, we work with our businesses to curate the best content specific to their needs and their region. Our workshops are suitable for everyone – you don't need to be strong, fit or agile.

We use a combination of theory, practical defence techniques, role play and discussions throughout our personal safety and self-defence workshops. In our classes, you'll experience realistic situations to help better prepare for potential risks, and more importantly, how to avoid those risks and escape safely.
"I learned so many self defence techniques, it didn't matter about the body weight or size, everything you taught me was so effective and now I feel a lot more confident and empowered walking the streets of London.''
Sharifa, Elephant & Castle
worry about personal safety when working late
worry about personal safety when travelling for business
worry about personal safety on their commute
of women are discouraged to work late due to concerns about personal safety
Three women (mothers) trying to make a difference
Be a part of making positive change
Here at Soar With Us we believe everyone deserves the right to feel safe and we're taking an active role to help prevent or minimize the impact, so every individual can thrive and flourish within today's society.

Why? We're three ordinary women and mothers; Libby, Shelly and Silpa, who have all experienced assault and its effects first and second-hand. We're passionate about affecting real change.
Take one of our workshops and let's help make the world a safer place for everyone through empowerment.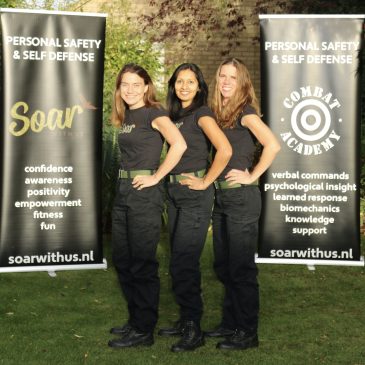 Enquire about our workshops & download our brochure
Fill in the form below and we'll send you more information about our workshops including our brochure. Take your first step towards helping us make real change
"This course helped me to know that there are options if a situation occurred"
"I loved how it got us up on our feet and adapted to us individually."
"I personally found it really helpful because of recent events."